Most dryer vents need to be professionally cleaned at least once each year.
But if you live in a home or work at a business that does a lot of laundry, you may need to get your dryer vent cleaned more often.  It's important to get dryer vents cleaned when needed.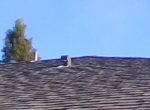 The dryer vent duct work on this home was thoroughly cleaned in the spring, from the dryer to the end of the vent cap. Six months later, you can see little bits of dryer lint, scattered on the roof of the home. Time for another professional dryer vent cleaning!
A quick call to Eddie Kyles, owner of A Lint Free Vent 904.537.1483, and the homeowner had an appointment for a thorough, professional dryer vent cleaning at a reasonable price.
Eddie thoroughly cleans residential and commercial dryer vents with a rotary brush.
Using a rotating brush tool removes the lint which can cling to the interior of the dryer vent ductwork. Using a rotary brush is the preferred cleaning method to get best results in the dryer vent cleaning industry.
A Lint Free Vent cleans dryer vents for residential and commercial customers. Some dryer vent ducts are flexible ductwork, some dryer vents are solid metal ductwork. If dryer vents have been damaged, or the client wants the vent duct re-routed (such as from exhausting into the garage to exhaust outside the home), Eddie can provide a free estimate, and can replace and re-route dryer exhaust vents, too!
A clean dryer vent helps a dryer get laundry thoroughly dry in less time. That means no more repeating drying cycles several times to get laundry dry. Getting laundry dry in less time saves energy and gives more time for other activities.
As a service to regular clients, A Lint Free Vent retains their contact information, and notifies each client when their next dryer vent cleaning is due. Many of our clients have thanked us for providing this free and helpful safety consideration.
Call Eddie Kyles, owner and operator of A Lint Free Vent at 904.537.1483 or Contact Us if you have questions about our dryer vent cleaning and repair, and re-routing services or to set up your annual dryer vent cleaning appointment, today.