A Jacksonville spa called A Lint Free Vent 904.537.1483 to get their dryer vent ductwork cleaned. The spa washes and dries laundry used in their nail salon and massage therapy facilities, on site.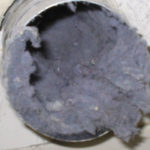 Moist lint from their drying laundry collects on the inner walls of the dryer exhaust ductwork.
With each load of laundry dried, more and more lint collects inside the dryer exhaust, restricting the flow of the exhaust.
When the dryer exhaust is restricted, the dryer has to work longer and harder to dry a load of laundry, costing the spa more money to dry their laundry. And the restricted exhaust builds up heat, which could lead to a fire!
Eddie Kyles, owner/operator of A Lint Free Vent provides professional Jacksonville commercial dryer vent cleaning and residential dryer vent cleaning, from the dryer to the dryer exhaust vent cap, with a rotating brush. A rotating brush is the preferred method for dryer vent cleaning because it removes lint the best!
If dryer vents have been damaged, or the client wants the vent duct re-routed (such as from exhausting into the garage to exhaust outside the home), Eddie can provide a free estimate, and can replace and re-route dryer exhaust vents, too!
As a service to regular clients, A Lint Free Vent retains their contact information, and notifies each client when their next dryer vent cleaning is due. Many of our clients have thanked us for providing this free and helpful safety consideration.
Call Eddie Kyles, owner and operator of A Lint Free Vent at 904.537.1483 or Contact Us if you have questions about our dryer vent cleaning and repair, and re-routing services or to set up your annual dryer vent cleaning appointment, today.