A client called A Lint Free Vent 904.537.1483 from St. Augustine, Florida. The dryer vent in her home had been cleaned by another company, earlier this year, but it was taking longer and longer for her do get a load of laundry dried.
She had read several articles on our website, and called us to make an appointment so we could see if we could identify and fix the problem with her dryer, or if she needed a dryer repair service.
When we removed the dryer vent duct from the back of the dryer, the problem became clear. The dryer vent duct was totally blocked.
There were only 2 people in her home. There is no way that they could have created this much packed-in lint in the dryer vent in only a couple of months!
It was obvious that the prior dryer vent cleaning company had not done a thorough job of cleaning this dryer vent!
This photo shows the dryer duct when removed from the wall connection.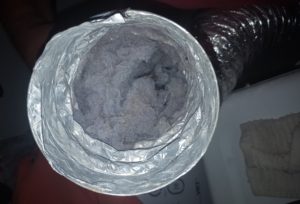 This photo shows the other end of the duct work, going into the dryer.

I showed the client how much lint was in their dryer vent and how it had backed-up into their dryer, and she was shocked!
Then we proceeded to clean the dryer vent.
A Lint Free Vent uses a rotating brush tool to remove the lint clinging to the interior of the dryer vent ductwork. Using a rotary brush is the preferred cleaning method to get best results in the dryer vent cleaning industry. We clean residential and commercial dryer vents. And we clean out each dryer vent thoroughly from the dryer end to the duct termination cap, using a rotating brush to remove lint that clings to the internal walls of the dryer vent duct.
Our client called us again a few days later and thanked us for cleaning her dryer vent. She said her dryer is much faster at drying a load of laundry now!
There are some easy ways to know your dryer vent needs cleaning  :
Do you see clumps of dryer lint on your roof, or hanging out of your dryer vent cap on your roof or out of the dryer vent cap on the side of your home or business?
Does your dryer take longer and longer to dry each load of laundry?
Do you find that your laundry items are still damp at the end of a timed drying cycle?
Call Eddie Kyles, owner and operator of A Lint Free Vent at 904.537.1483 or Contact Us if you have questions about our dryer vent cleaning and repair, and re-routing services or to set up your annual dryer vent cleaning appointment, today.