With over 10 years of experience in the dryer vent cleaning business, A Lint Free Vent 904.537.1483 recommends getting your residential or commercial dryer vent thoroughly and professionally cleaned on a regular basis.
For some people that means an annual dryer vent cleaning. For some people who wash and dry a lot of loads of laundry and for some commercial laundries, their dryer vents may need to be cleaned more often than just once per year.
We have found some dryer vents almost completely clogged by lint.
Here is a photo of a bird's nest we found in one client's dryer vent.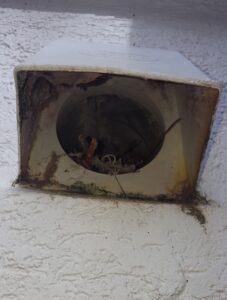 Recently, a home owner in Neptune Beach told us it was taking longer and longer to dry a load of laundry. A dryer vent restricted by lint accumulation can cause this. Sometimes, we are called because dryers overheat and cannot finish drying a load of laundry; I have found those dryer vents also clogged with lint.
Imagine my surprise when I removed the dryer vent cap on the side of the home and found a plant had invaded the dryer vent. The warm, moist dryer exhaust air in the vent was perfect for the plant root. As you can see in the following video, the plant was growing nicely but also clogging the dryer vent!
Happily, with the plant root and the lint removed from the dryer vent, our client's dryer was back to drying loads of laundry as expected. Another happy client!
Call Eddie Kyles, owner and operator of A Lint Free Vent at 904.537.1483 or Contact Us if you have questions about our residential and commercial dryer vent cleaning and repair, and re-routing services. You can also to set up your annual dryer vent cleaning appointment, today.