The owner of a 3rd floor condo in the Baymeadows neighborhood of Jacksonville, Florida recently called A Lint Free Vent 904.537.1483 to clean the dryer vent in her home. Pulling the dryer away from the wall to access and begin cleaning the dryer vent, we could see scorch marks on the back of the dryer!
These scorch marks were caused by the dryer heaters overheating during drying cycles! The dryer vent was so restricted by lint that had built up in the vent duct, that the dryer heating elements were overheating, causing those scorch marks on the outside of the dryer!
The client was surprised to see the scorch marks on the back of the dryer. She said she was thankful to get the dryer vent professionally cleaned, avoiding a dryer fire in her condo!
Dryer vents should have the lint professionally cleaned out on a regular, periodic basis. The frequency depends on how often you dry laundry and what type of materials that you dry. We suggest getting your dryer vent cleaned at least once each year is a good standard to start with. Your dryer vent cleaning professional will be able to tell you if you need more frequent or less frequent dryer vent cleanings after they have finished cleaning your vent.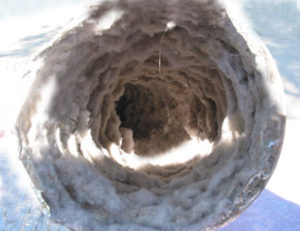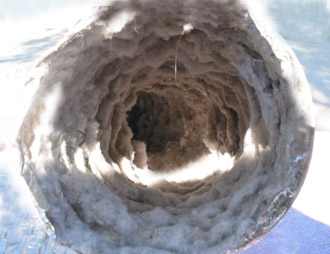 A restricted dryer vent is usually caused by lint; little, short, fine fibers of fabric that separate from laundry during a dryer's drying cycle. This lint from drying laundry is moist, causing it to collect in the exhaust path of dryer exhaust vent ducting each time the dryer is used. As lint collects, it increases the time it takes to dry items, and decreases the efficiency of the dryer.
As lint collects inside the vent duct, it dries and becomes flammable and restricted dryer vents cause dryers to overheat. Collected lint accumulations in dryer vent ducts can cause house fires, and even deaths.
When was the last time you got your dryer vent cleaned? Avoid a dryer fire and keep your dryer vent from becoming clogged with lint by calling Eddie Kyles at A Lint Free Vent 904.537.1483 for an appointment for an annual dryer vent cleaning, or Contact Us.