A Lint Free Vent 904.537.1483 appreciates having Residential and Commercial clients who trust and depend on us to clean their dryer vents.
However, we have seen evidence that all dryer vent cleaning businesses do not provide the same level of thorough and professional cleaning that we do.
This client called us because it was taking longer and longer to dry a load of laundry in their home. (That's an indication your dryer vent probably needs cleaning, or you could even need to repair or replace your dryer.) We suggested letting us clean their dryer vent before they got their dryer repaired or bought a new dryer.
The client told us they had just had their dryer vent cleaned by another company, 6 months prior.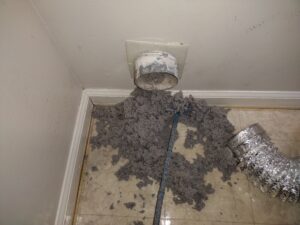 We got all of this lint out of their dryer vent! Our client was surprised! I told him that his dryer was working correctly but all this lint had been restricting the dryer vent, so the dryer couldn't get rid of the moisture from the laundry. They told us they hadn't done more laundry than usual in the last 6 months. (We recommend getting your dryer vent cleaned on an annual basis, or more often if you do lots of laundry.)
Call Eddie Kyles, owner and operator of A Lint Free Vent at 904.537.1483 or Contact Us if you have questions about our dryer vent cleaning and repair, and re-routing services or to set up your annual dryer vent cleaning appointment, today.