A homeowner in the Deerwood neighborhood of Jacksonville, Florida called A Lint Free Vent 904.537.1483 because when she was drying a load of laundry, she heard a gurgling sound coming from her dryer vent!
The homeowner said she couldn't remember the last time she had her dryer vent cleaned.
After we disconnected the flexible exhaust from the wall connector, we saw the inside of the dryer vent was thick with lint.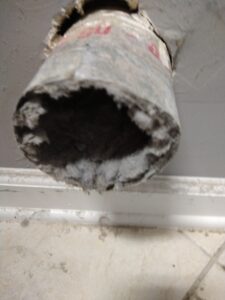 – – Every time you dry a load of laundry, little pieces of lint (from the fabrics being dried) collect on the inner wall of the dryer vent duct.
– – As the dryer vent becomes more and more restricted, more moisture collects in the restricted ductwork.
– – Eventually, the water that formed from the collected moisture began to gurgle at the most restricted section of this vent duct.
We cleaned the lint from the vent duct, from the dryer to the end cap, outside the home.
The dryer doesn't gurgle when it is drying laundry, now! Another happy client!
Our client was happy to hear that we keep clients on our business calendar, and contact them about a year after cleaning their vent, to schedule another dryer vent cleaning.
– – Download the NFPA (National Fire Protection Association) list of Dryer Safety Tips, which includes recommending an annual dryer vent cleaning for most homes.
– – Depending on how much laundry a home does, and the type of materials being dried, a home dryer vent may need cleaning more often than once per year.
Call Eddie Kyles, owner and operator of A Lint Free Vent at 904.537.1483 or Contact Us if you have questions about our residential and commercial dryer vent cleaning and repair, and re-routing services. You can also to set up your annual dryer vent cleaning appointment, today.