Remember that old saying, "Out of sight, out of mind?" When is the last time you took a peek at the space behind your dryer?
One of the first things we do when we visit a client's home or business is to pull the dryer away from the wall so we can access the dryer vent.
Sometimes we find fallen clothes hangers. Sometimes we find that missing sock the client has been looking for. When went to clean the dryer vent in this Jacksonville, Florida home, we found the dryer vent had a sharp kink in it!
Having a kink in your dryer vent duct causes a restriction. When the hot, moist, dryer exhaust comes to the restriction in the vent duct, lint begins to collect and further restrict the duct. The accumulating lint in the restricted dryer vent duct is a FIRE Hazard! The restricted duct causes exhaust heat from the dryer to make that collected lint hotter while the load of laundry dries.
– Lint is combustible!
– Did you know that lint from your dryer can be used to start a fire for your barbecue grill or to start a campfire?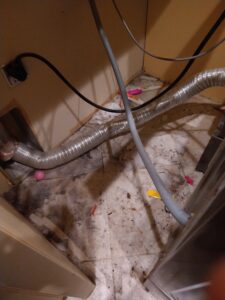 If you see your dryer vent duct has been kinked like the one in the photo, the duct needs to be replaced. Straightening the duct out a little will not remove the kink. A Lint Free Vent can replace your kinked dryer vent duct, and also clean your vent duct from the dryer, all the way to the vent cap outside your home.
– – Some people find replacing a kinked dryer vent duct a satisfying home DIY project. Flexible dryer vent ducting is available at neighborhood home improvement stores like Home Depot, Lowes, and Ace Hardware.
– – Other clients decide they are ready to replace their flexible dryer vent duct with metal dryer vent ductwork, a service which A Lint Free Vent can also provide.
Either way, please take a look behind your dryer from time to time to make sure your dryer vent duct has not been kinked by movement of the dryer.
Call Eddie Kyles, owner and operator of A Lint Free Vent at 904.537.1483 or Contact Us if you have questions about our residential and commercial dryer vent cleaning and repair, and re-routing services. You can also to set up your annual dryer vent cleaning appointment, today.